Franchise Expos
Exhibit and Expand
The Franchise Association supports the Franchise Business & Opportunities Expos organised by Brett Rodger from Expro NZ Ltd. The Association has a prominent stand at the Auckland Expo where it promotes the message...
Don't Sign Without This Sign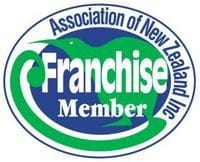 The Franchise Association is the only body which sets standards for franchising in New Zealand. When you are looking for a franchise opportunity or an experienced advisor, look for the member logo which identifies our members.
Why deal with our members?
All franchisor members must provide you with a document containing all the key details about the franchise.
You will receive the necessary information in good time to make a sound decision.
You will be encouraged to take proper legal and financial advice.
All franchisor members offer a seven day cooling-off period.
Only Franchise Association members are bound by the Franchising Code of Practice and the Code of Ethics.
All franchisor members offer a simple dispute resolution process in their agreements to protect the on-going relationship.
Affiliate members have real franchise knowledge and experience to help ensure you make the right decision - whether buying a franchise or franchising your own business.
All advisor members must respect confidentiality of information and disclose to the client any relevant personal or financial interests.
2010 Expo Location & Dates
Auckland

Venue: ASB Showgrounds Auckland, Greenlane
Date: 13th, 14th & 15th August 2010


AN EXPO FOR EVERYONE
The NZ Business Opportunities and Franchise Expo has been held nationwide for over 16 years and is sponsored by Westpac and supported by the Franchise Association of NZ Inc.
It will have something for everyone considering buying their own business – whether they are in the serious stages of investing large capital or just exploring the idea of a life style change like working from home.
Not only is it an important learning forum for people considering buying their own business – visitors are also in the position to meet experts and talk to business owners face to face in one place. Information that could take days to collect like interview appointments, meeting and discussions can be researched in a matter of hours.
Talk to the experts and learn to minimize any risk
Franchising and business growth tips offered at FREE SEMINAR run daily.
New business opportunities launching for the first time
Plus mature business systems with opportunities available while/or supporting their brand and presence in the market place
Look for business ideas to suit your lifestyle and budget – from under $50,000 to over $500,000
Franchise Clinic – advisors on how to franchise your business and how to grow your opportunity
Who should Exhibit
If you are offering:
Franchises, licenses, business opportunities, advice or support in starting a business this is the perfect marketing channel for you!
Face to face and personal – expand by exhibition
People buy from people – then they find reasons to justify their decision
Click here for Expro Media Rate Card
OPENING TIMES
Doors open at 10am to 4pm
Seminars start at 10.30 and run daily every half hour.
CONTACT DETAILS AND FURTHER DATES
Andrew Moses - Expro NZ Ltd

Web www.expro.co.nz
77 James Cook Drive, Welcome Bay, Tauranga 3112
Ph 09 533 8225, Fax 07 544 5059 Mobile 021 792 006
or Ph 0800 439 776 (0800 4 EXPRO)
Email here