Join us on Wednesday 19 September 2016 at the FANZ Breakfast with John Shackleton.

How can playing the Mindfulness card help us become:
More resourceful and resilient?
More productive, constructive and focused?
More innovative and creative?
Many people misunderstand Mindfulness, sometimes dismissing it as a distraction, the latest fad or perhaps the joker in the pack. However medical science is now showing us that this card is, in fact, the solution to the overload problems facing the corporate world today.
With a high level of distraction, information overload, constant pressure, and the need to respond to clients instantly, how are our people supposed to stay on top of their game, while remaining productive, civil, collaborative and creative? This is where the mindfulness card can be invaluable.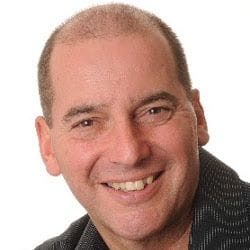 John Shackleton CSP has a sports psychology background and has been working with top performers in the corporate and sports world for 25 years. He is a best selling author and motivational speaker.

John will share some insights on how Mindfulness training in the workplace can improve Wellbeing, Creativity, Relaxation, Attention, Memory, Decision Making and Productivity.
Auckland Breakfast Networking Event
Date: 19 October 2016
Start: 7:00am - 8:45am
Venue: RNZYS, Level 1 101 Curran Street, Auckland
Tickets:
Members: $46.50
Non-Members: $69.95
Buddy: $38.50 (first-time attendees)
Thank you to our sponsor:

Venue:
Royal NZ Yacht Squadron
Starting:
7:00 AM
Wednesday 19th October 2016
Ending:
9:00 AM
Phone Enquiries:
64 9 274 2901
Email Enquiries:
admin@franchise.org.nz
Registration:

Two easy ways to register

1. On-line. Complete the Event Registration box below, then click the register button and follow the instructions.

2. Express member EMAIL registration - click here

Buddy Ticket:

The aim of the Buddy Ticket is to encourage our breakfast faithfuls to bring along new faces to our meeting and grow attendance. In particular to increase the participation of Franchise Systems. To qualify for the Buddy Ticket prices guests must not have attended a breakfast/cocktail event.

If you are a new attendee and don't have a Buddy to bring you don't worry we will soon find you one!

Parking:

Free parking is available at the venue

3 social media to choose from:

Check out one or all three of the social media channels that the Franchise Association of New Zealand is currently using. Use the links below to select your medium.

Click here to Like us or leave a post on our Facebook Wall

Click here to follow us on Linkedin